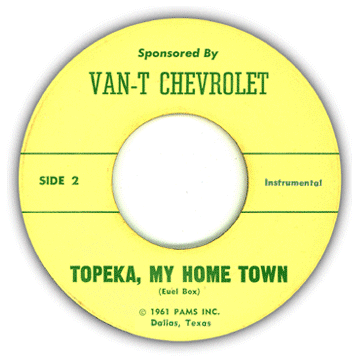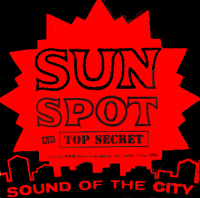 This page is a small but growing collection of MP3 files for and information about, the various "resing" versions of "My Home Town." This song was a promotional jingle from PAMS of Dallas, Texas, produced in 1961 as part of Series 16, "The Sound of the City."

Hear "My Home Town" explained, from the "History of PAMS" audio documentary, created by Jon Wolfert of JAM Creative Productions who worked at PAMS in 1972.

Jon Wolfert offers even more information on Pams' "My Hometown" page.

"My Home Town" features music by Euel Box and sung by Terry Lea. Who wrote the lyrics for the various resings is uncertain. As you can see, at least one known label lists lyrics by M. Baum and W. Mayes.

Euel Box's Wikipedia page: (from https://en.wikipedia.org/wiki/Euel_Box/):

American composer who has spent his entire film scoring career writing music for the cinematic adventures of Benji the Dog, and those directed by Benji's creator, Joe Camp. Began his career as a jingle writer with PAMS (Production, Advertising, Merchandising & Service) in Dallas, and first appeared on the film music scene in 1974 when, in collaboration with his wife Betty, Box won a Golden Globe and was nominated for an Oscar for the song "I Feel Love" from the original Benji film. Over the next decade, Box would write for half a dozen more Benji/Camp films, but other than penning the famous Radio London "Sonowaltz" theme, has done little else. He hasn't scored a film since 1987.
Highlight Scores: Benji, For the Love of Benji, Oh Heavenly Dog, Benji the Hunted.
Awards: Golden Globe for "Benji" (1974). Academy Award nomination for "Benji".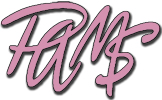 The total number of re-sings created is unknown. If you have access to additional versions of this song to contribute to this collection, you can communicate that by emailing frp@vitaphone.net




<--
Euel Box

-->
Terry Lea
Here are the mp3 files:

Abilene, My Home Town added 20190424
Atlanta, My Home Town
Austin, My Home Town
Baltimore, My Home Town
Birmingham, My Home Town
Boston, My Home Town
Brownwood, My Home Town added 20190424
Charleston SC, My Home Town
Chattanooga, My Home Town added 20190424
Chicago, My Home Town
Clovis, My Home Town
Columbus, My Home Town
Corpus Christi, My Home Town added 20190424
Crowley, My Home Town added 20190424
Dallas, My Home Town
Dallas 2, My Home Town added 20190424
Dayton, My Home Town added 20190424
Del Rio, My Home Town added 20190424
Detroit, My Home Town
Duluth, My Home Town
Edmonton, My Home Town
Elmira, My Home Town
Farmington, My Home Town added 20190424
Fort Walton, My Home Town
Ft. Dodge, My Home Town added 20190424
Fort Worth, My Home Town
Fresno, My Home Town
Henderson, My Home Town
Honolulu, My Home Town
Houston, My Home Town
Huntsville, My Home Town
Jackson, My Home Town added 20190424
Jamestown, My Home Town added 20190424
Joplin, My Home Town added 20190424
Kalamazoo, My Home Town added 20190424
Knoxville, My Home Town added 20190424
Lawton, My Home Town
Lexington, My Home Town
Lake Charles, My Home Town added 20190424
Lincoln, My Home Town added 20190424
Lincoln 2, My Home Town added 20190424
Little Rock, My Home Town
London, My Home Town
Louisville, My Home Town
Lubbock, My Home Town added 20190424
Lufkin, My Home Town
Madison, My Home Town added 20190424
Memphis, My Home Town
Midland, My Home Town added 20190424
Montgomery, My Home Town
Montreal, My Home Town
Nashville, My Home Town
New Orleans, My Home Town
Orange, My Home Town added 20190424
Philadelphia, My Home Town
Portland, ME, My Home Town
Portland, OR, My Home Town
Providence, My Home Town
Quincy, My Home Town
Santa Maria, My Home Town added 20190424
Shreveport, My Home Town
Scranton/Wilkes Barre, My Home Town
Sherman-Denison, My Home Town added 20190424
St. Joseph, My Home Town added 20190424
St. Louis, My Home Town
Streator, My Home Town added 20190424
Tidewater, My Home Town
Topeka, My Home Town
Troy, My Home Town
Tyler, My Home Town added 20190424
Waco, My Home Town
Washington, My Home Town (version 1)
Washington, My Home Town (version 2)
Wichita Falls, My Home Town added 20190424
Williamson, My Home Town added 20190424
Winston-Salem, My Home Town


How about an outtake from the original session (hear the guitar player hit a clam)?

...and a "re-sing" for a commercial product?

And now...the extremely rare "B-Side." This instrumental version features a completely different tempo and orchestration!

THIS JUST IN...a The Chantelles 1965 cover version of "London, My Hometown."
This label suggests that perhaps not all resings were done by Terry Lea. This label suggests that Claire Stewart did some resings too. Additionally, there is information that Jean Oliver sang "Lexington." Listen for yourself and decide what you think.


Claire Stewart

Still searching for:
Alexandria, Louisiana
Akron-Canton, Ohio
Bryan-College Station, Texas
Charleston, South Carolina (2nd version)
Clacton, UK (pirated version)
Evansville, Indiana
Harwich, UK (pirated version)
Nampa, Idaho
Tulsa, Oklahoma

Businesses:
*Hills Supermarkets
*Stop-n-Go Restaurants
*Tallhiemers Clothing Store

(and any others)